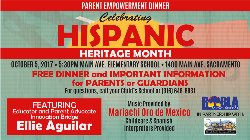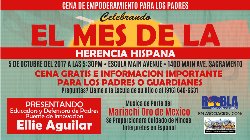 What

Parent Dinner - Hispanic Heritage

When

10/5/2017, 5:30 PM

Where

Main Avenue School
The next Parent Empowerment Dinner will be held on Thursday October 5th at Main Avenue and feature parent advocate Ellie Eguilar. The theme of the event is "Parents as Your Child's First and Most Consistent Teacher".

Live music will be provided, while parents and children enjoy a free meal prepared by members of the Robla School District. Free childcare will be provided during the presentation.

This event is once again co-sponsored by the Roberts Family Development Center.